2017 Midwest Band Conductor's Symposium
Date
Saturday, April 8th
Cost
Conducting Participant - $80
Student Conducting Participant - $45 (maximum of 4 selected)
Observer - $35
Student Observer - $20
Where
Ophelia Parrish
Truman State University
100 E. Normal Ave.
Kirksville, Missouri
Truman State University is proud to present the return of the Midwest Band Conductors' Symposium. This event will provide an opportunity to gather and discuss our conducting skills with an outstanding panel of conductors, teachers, and clinicians. The Truman State University Wind Symphony will serve as the host performance ensemble. Those who attend the conducting symposium may participate as either an observer or an active conductor of the Wind Symphony. Twelve conductors will be selected from the application on a first come, first serve priority basis. All conductors will receive immediate feedback from one of the clinicians and a DVD of their conducting sessions.
All DVDs will be provided as part of the application fee. Those individuals who register as an observer will gain much professional and personal growth by observing these great conductors and clinicians. In sponsoring this symposium, Truman State University hopes to fulfill the wishes of many band conductors who have indicated a desire to continue their musical growth and advance their conducting skills.
Each participant has the option of selecting one piece from both groups of provided literature or to submit the piece they are working on with their ensemble and one piece from the provided literature below.
Clinicians
Dr. Carolyn A. Barber is the Ron and Carol Cope Professor of Music and Director of Bands in the University of Nebraska-Lincoln's Glenn Korff School of Music. She earned a B.M. in horn performance at Northwestern University, an M.M. in horn performance from Yale University, and returned to Northwestern to earn her D.M. in conducting as a student of John P. Paynter and Victor Yampolsky.
Dr. Barber began her career as a lecturer and assistant to the dean of the Northwestern University School of Music. Her duties included teaching advanced conducting and directing the university's 118-piece Concert Band. Prior to her appointment at UNL, Dr. Barber also served as the director of bands at the University of Wisconsin-La Crosse. Apart from her conducting and teaching at UW-L, Dr. Barber also served for five years as the principal horn of the La Crosse Symphony Orchestra.
As director of bands at UNL, her teaching assignment is now a hybrid of traditional academic classes and performance-based courses. This combination provides a rich atmosphere for the cross-pollination of ideas, techniques, and creative problem solving. Dr. Barber's chief area of research is conducting practice and pedagogy, with emphasis on group dynamics (flocking and influence), and the development of ensembleship through improvisation, artistic thinking, and a broad, multidisciplinary array of rehearsal techniques. She has demonstrated and elaborated upon her work at venues including the Midwest Clinic, conferences of the College Band Directors National Association, American String Teachers Association, and the National Association for Music Education, state music educators conventions, district training workshops, and masterclass/rehearsal clinics nationwide.
Dr. Barber has received numerous awards for musical and academic achievement, including the Hixson-Lied College of Fine and Performing Arts Distinguished Teaching Award, a Hixson-Lied Professorship, two National Band Association Citations of Excellence, and a United States Navy Good Conduct Medal. Her writing has been published in the Journal of Band Research, and she is a regular contributor to the Teaching Music Through Performance in Band reference series. In addition to her scholarly activities, Dr. Barber maintains an active schedule as a guest conductor throughout the United States and Canada. She is a member of Phi Beta Mu Honorary Bandmasters Fraternity, state chair and a member of the College Band Directors National Association Research Committee, a peer reviewer for the Journal of the Conductors Guild, Nebraska Music Educators Association College/University Affairs chair, chair of the Nebraska Council for Music Teacher Education, and immediate past president of the Big Ten Band Directors Association.
Dr. Erin Bodnar is an Assistant Professor of Music and conductor of the Symphonic Band at Graceland University in Lamoni, IA. Dr. Bodnar says:
The experience of sharing a musical performance with an ensemble, as a conductor, is like no other. An intimate and powerful connection is created as we perform the music we have rehearsed for our attentive audience. It is an absolute joy to conduct the Symphonic Band at Graceland University – I hope that if you played in your high school band, you will consider playing with the GU Symphonic Band!
My main instrument is the bassoon, although I played quite a few before deciding on that one. I enjoy playing chamber music, particularly reed trio and woodwind quintet repertoire. I also accompany students at Graceland University on piano and teach an array of music courses, including: conducting, music education, form and analysis, piano proficiency, and applied lessons.
My research interests center in conducting pedagogy and movement awareness. Working with novice conductors, I noticed that many students seemed unaware of their bodies and movements. Using motor cognition to understand awareness of goal-directed actions and looking at somatic education in dance training, I hope to refine the teaching of conducting to help students to become more intentional with their movements and gestures.
If I'm not making or teaching music, I am probably exercising! I am an avid runner, having run 21 marathons. I am also certified as a Les Mills BodyPump, BodyCombat, BodyAttack and CXWORX instructor.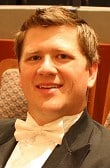 Dr. Curran Prendergast is the Director of Bands and Assistant Professor of Music at Truman State University where he guides all aspects of the band and graduate conducting programs.
A native of Iowa, Dr. Prendergast received his Bachelor of Arts in Music Education from Central College (IA). Afterwards, he taught in the public schools for seven years in Indiana and Minnesota. He also served on staff with the Dubuque Colts Drum and Bugle Corps. Dr. Prendergast holds a Master of Arts in Band Conducting from the University of Iowa and a Doctor of Musical Arts in Wind Conducting from the University of Georgia. His conducting teachers include Dr. Shelley Axelson, Dr. Richard Mark Heidel, and Dr. John Lynch.
Dr. Prendergast has appeared as a guest conductor, clinician and adjudicator in Georgia, Iowa, Indiana, Missouri, and Minnesota. He is a member of the College Band Directors National Association, National Band Association, Music Educators National Conference, College Music Society, Pi Kappa Lambda, Phi Mu Alpha Sinfonia, and is an honorary member of Kappa Kappa Psi.
Dr. Jocelyn Stevens Prendergast, Assistant Professor of Music and Music Education at Truman State, teaches Conducting, Research in Music Education, and the Music Management of Instruction courses. She also supervises intern teachers, oversees the Music Masters of Arts in Education program, and serves as the faculty advisor for the Truman State collegiate chapter of the National Association for Music Education. She received a Bachelor of Music in Music Education at Butler University, a Master of Music in Wind Conducting and a Master or Arts in Music Education from the University of Minnesota, and a Doctor of Musical Arts in Music Education from the University of Georgia. Her primary conducting teachers have been Robert Grechesky, Henry Leck, Stanley Derusha, Craig Kirchhoff, and John Lynch.
Dr. Prendergast's preK-12 teaching experiences have been rich and varied. She taught for four years at University High School of Indiana, a private, non-sectarian high school in Indianapolis, IN, where she was a founding faculty member. At University High School she taught instrumental (winds and strings) and vocal performing ensembles, music theory, and percussion ensemble, as well as January Term courses. She taught public middle school and high school band and general music for three years in Wayzata, Minnesota, where she also taught middle school jazz bands and jazz combos and served as the musical director for middle school musicals. During her time in Georgia, Dr. Prendergast mentored undergraduate music education majors teaching in an after school band program for 4th and 5th grade students in the Athens-Clarke County Schools. In addition to her courses at Truman State, she enjoys teaching music to 2-5 year olds at the Kirksville Child Development Center in Kirksville, MO.
Dr. Prendergast's research interests include pre-service music teacher education, mentoring, and personality. She maintains professional memberships in the American Education Research Association, Society for Music Teacher Education, and National Association for Music Education, among others.
Schedule
Saturday, April 8th
8:30-9:15a Registration Opens (Coffee and Danish Provided)
9:15-9:30a Introductions
9:30-12:50p Conducting Session I
12:50-1:50p Lunch (Provided)
1:50-4:40p Conducting Session II
4:40-4:55p Break
4:55p-5:55p Clinic Session with Dr. Barber
5:55-6:40 Clinic Session with Dr. Bodnar
6:40p Symposium Wrap Up
7:00p Dinner at the Dukum Inn (Not Provided)